About Us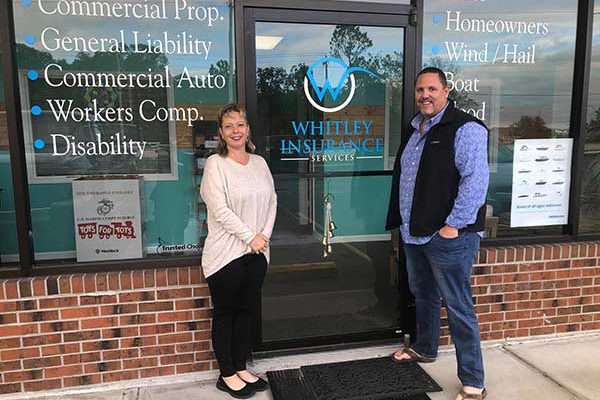 Learn about
Whitley Insurance
Whitley Insurance Services was founded on the principle of making insurance easy with knowledgeable, honest service in November of 2018. 
These simple but yet meaningful words have played a very important role in the agency owner's life, Kevin Whitley.  We believe shopping for your auto, home, or business insurance should not be complicated. At Whitley Insurance Services we try to make it as seamless and easy as possible in the complicated world of insurance. 
Kevin Whitley
Kevin started in the insurance industry in 2002 after being in law enforcement.  He started at a captive agency until he and his family moved to the Crystal Coast in 2007 to take a position with an independent agency. 
During this time, Kevin learned the in's and out's of the independent insurance world.  In November 2018,  Kevin decided to take a leap of faith and open his own independent agency in Cedar Point, NC. In 2019 Kevin's wife, Annette joined the agency to assist Kevin with the day to day operations. Annette's background in education as well as a benefit specialist for the VA has proven to be a tremendous asset to Whitley Insurance Services. 
When not working at the agency, Kevin and Annette enjoy spending time at local restaurants, traveling, and being involved in the community. Kevin and Annette have been married since March 1998 and have three sons. When asked about owning his own agency Kevin stated, "It is very challenging at times with the ever changing insurance market but rewarding. We keep the motto, treat others as you would be treated. We always strive to make insurance easy by using the most current technology. My career in insurance has spanned almost 20 years. With that, I have learned a lot that I have been able to use to pass along to fellow agents and clients. Our office is always open so feel free to stop by for a cup of coffee and sit down to go over your current coverages. We feel building relationships is the most important part of owning an agency. You are not just a client but a friend!"
"We feel building relationships is the most important part of owning an agency.  Your are not just a client but a friend."

Kevin Whitley - Owner